Ireland
Protective Screens
We make custom sized protective screens in Ireland. COVID-19 prevention in businesses, schools and taxis.
Get a Quote for Screens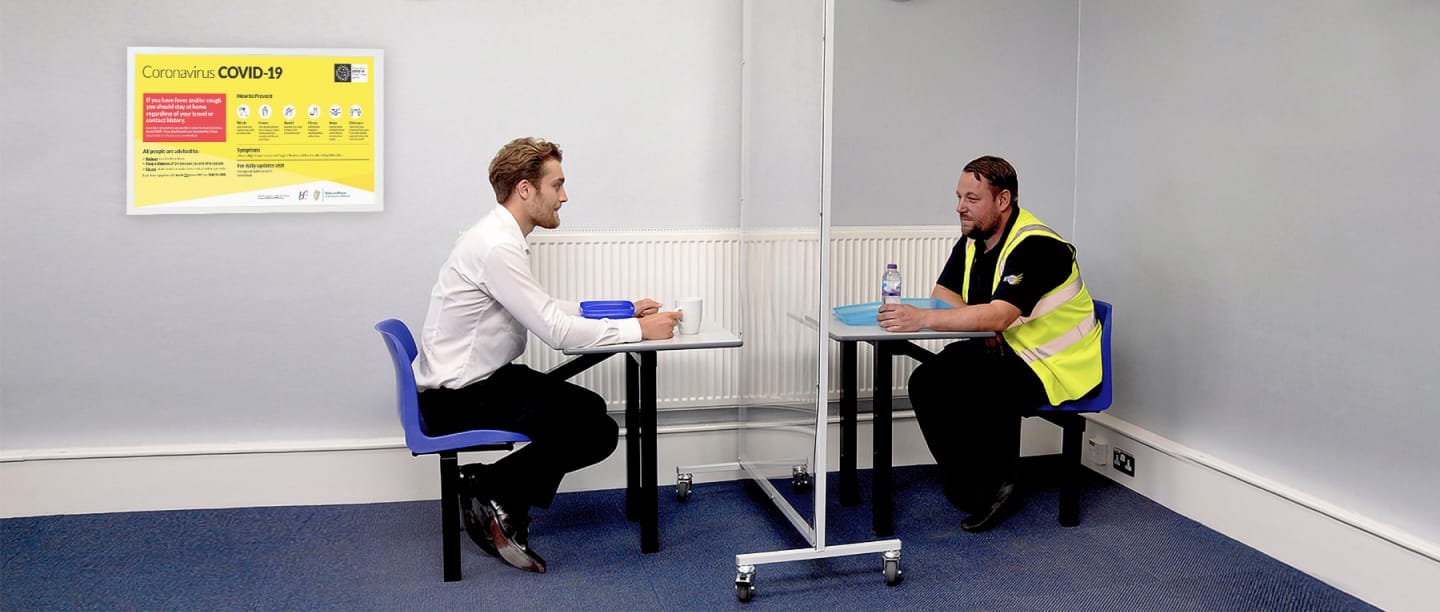 Protective Screens
We offer standard COVID-19 Protective Screens 60x60cm, ideal for shops, offices, receptions and more. The antiviral partitions are made from clear perspex and help protect your staff and customers from COVID and other infections. More Photos & Prices »
Made to Measure from
€99
Get a Quote
Tall Protective Screens
We supply COVID-19 Protective Screens for Barbers and Hairdressers, Offices, Receptions and any other place of business. They are fully mobile and can optionally be fitted with wheels. The most common size is 180m high by 60cm wide. More Details & Prices »
Made to Measure from
€299
Get a Quote
Taxi Protective Screens
We supply custom cut Taxi Protection Screens, preventing the spread of COVID-19 in Taxis, Limos, Buses, Driving School Cars and more. They are made from shatter-resistant PETG, custom designed and cut for your specific vehicle. More Photos & Book Now »
Installed in your taxi for
€349
Make a Booking
Roller Blind Screens
Roller Blind Hygiene Screens are ideal for protecting your staff against airborne pathogens in offices and other large spaces. They are clear vinyl sneeze guards and germ guards that can be fixed to the ceiling and are fully retractable. More Details & Prices »
2 Sizes from
€169
Get a Quote
Protective Screens Ireland
Protective screens are a must-have for every business in this day and age.
COVID-19 has completely flipped the way we operate in daily life on its head, and there have been some rapid adaptations to make sure everyone is safe.
In every office, retail store, hotel and restaurant, measures have been put in place to provide additional protection for people as well as improving the levels of cleanliness. Protective screens are a key part of this and an aspect we can definitely see staying for the long haul.
Some of these changes have improved people's lives and could stay to form part of the "new normal".
Operating safely has been a challenge for many businesses. Business owners had to adapt many times.
It is easy to adapt your business and use our large protective screens to keep clients separate. Our high-quality screens are the perfect solution to provide social distancing measures which put safety at the forefront without impeding on the design and atmosphere which customers love.
The screens are completely made-to-measure using our high-tech plastic cutting CNC router. We can manufacture and deliver as many screens in as many sizes as you need.
Protective Screen Types
Freestanding Protective Screens
from
€99
Our Perspex Screens will help to ensure your employees and customers are protected against most spreadable viruses.
The Coronavirus screens are available in any size and can be ordered to your specific requirements. A further benefit is that we have some models with adjustable legs. These COVID screens are very adaptable for any location in your shop or office.
If your office or factory is still operating, you may wish to consider ordering protection screens for key areas within your building such as the reception desk or in-betweens desks where you sit with colleagues or clients.
While we offer some standard size small protective panels from €99 + VAT, most of our orders are for custom Perspex panels. Get in touch with one of our team who will be happy to provide a specific quote for your order.
Tall Protective Screens
from
€299
It is likely that when the easing of restrictions happens, there will continue to be additional regulations and measures in place to promote safety.
In line with many other European countries the requirement to provide protective screens looks set to continue in Ireland.
Similarly, for many customer-facing roles a quality tall protective screen needs to not only provide a shield against the COVID-19 virus, as well as other germs and bacteria, but sometimes also to be moved from place to place. Our freestanding sneeze guards can be fitted with wheels to make them perfectly mobile..
From Doctor's Surgeries to Banks, Hairdressers, Schools and Nursing Homes, our large protective screens are an essential piece of equipment which you cannot do without. They are available in any size and boast a durable steel frame that's powder coated in white, black, or any RAL colour.
For restaurants, pubs and cafés who need to redesign their space to fit social distancing requirements in their kitchens and common areas, we can also produce bespoke worktops Ireland. We can supply and cut them in any size and style, from plain colours to marble effect worktops.
Mobile Tall Protective Screens on Wheels or Legs
Made to Measure from
€299
Get a Quote Today
Driver Protection Screens
any taxi just
€349
Taxi drivers may have specific difficulties adhering to social distancing regulations and will want to ensure that both their customers and drivers are kept safe during these times.
Taxis continue to be a key mode of transport. Taxi protection screens offer a high level or protection and peace of mind to help prevent the spread of the coronavirus.
These panels are custom-cut for any vehicle size. They are personalised to the individual shape of your vehicle. We offer 2 options at the same price, which you can see in the photos below:
L-Shaped Taxi Screens: They are custom cut to wrap around the driver's headrest.
Flat Taxi Screens: They are cut to the shape of your car and installed behind the front seats.
Minibus drivers who provide a shared journey may also wish to install these taxi protection screens at a couple of locations within their vehicle to ensure both the drivers and users are protected.
We can usually book you for installation within a few days. We need your car for approximately 3 hours for measurements, installation and adjustments.
Retractable Sneeze Guards
2 sizes from
€169
For the safety of your company and staff, we currently supply Roller Blind Hygiene Screens — more commonly known as Ceiling Mounted, Retractable Sneeze Guards.
Being able to separate your employees in an office with a protective screen is crucial in these times, not only for protecting them against COVID-19 but also against any airborne pathogens, germs and bacteria.
Our Roller Blind Protective Panels can be fixed to the ceiling with ease and are fully retractable. They act as virus-bacteria screens and are made from hygienic, easy to clean soft PVC cut into a thin but effective curtain.
These sneeze guards are a minimally-intrusive option for desk division in any office space, cafeteria and other areas. Our Retractable Clear Sneeze Guards come in 2 widths: 650mm (ideal for using between desks) and 1350mm (for a variety of uses).
COVID Screens
We are still taking orders for COVID Screens and Sneeze Guards, having developed a range of services which offer protection against the Coronavirus. While the lockdown is set to continue, we have established some new products which will help people to remain safe during the crisis.
Our products will benefit businesses which continue to operate during these times — such as shops, schools, factories, taxi drivers, and public transport providers. We provide made-to-measure COVID panels and can incorporate branding or social distancing instructions as details on the product.
Throughout the lockdown in Dublin, shops and pharmacies have remained open to provide essential supplies. The safety and well-being for these key workers is a huge concern. Installing protective screens is one way to ensure that social distancing guidelines are observed and to follow best practice in preventing the spread of the virus.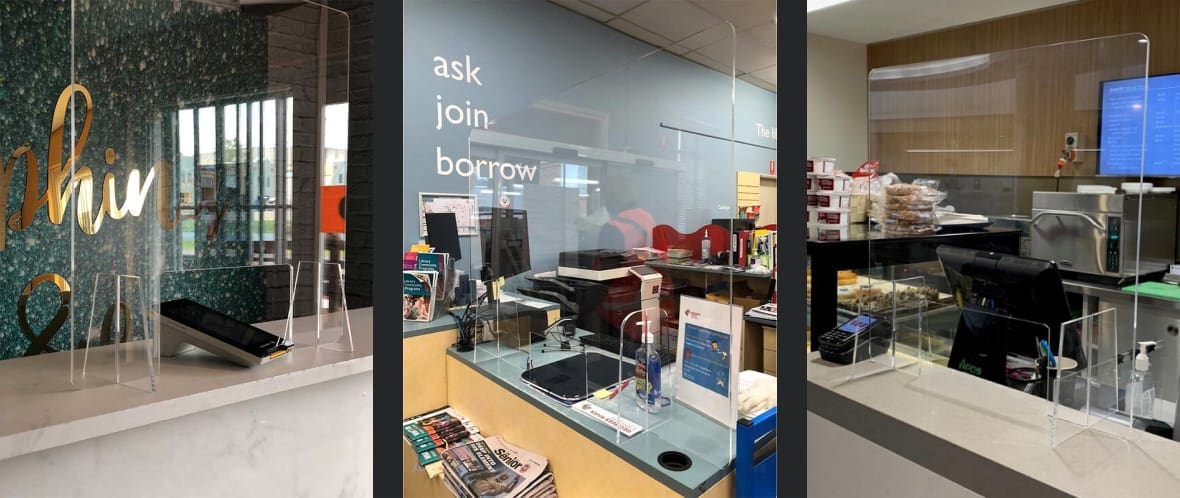 How much do protective screens cost?
Protective screen prices start at €99 + VAT for a regular freestanding screen, 60cm wide and 60cm high.
The prices of protection panels scale up depending on the dimensions of the panel. Another protective screen price would be €299 + VAT for a tall freestanding screen on a metal frame that's 60cm wide and 180cm high.
Taxi COVID screens cost €349 + VAT (at a reduced rate of 13.5%) regardless of the vehicle.
Hairdressers, Beauty Salons and Nail Bars have been some of the customer-facing industries which have faced many obstacles to trading. The need to protect customers and employees while providing a comfortable and relaxing environment is difficult to navigate.
During the COVID-19 pandemic, safety is the number one priority. Get in touch, and we will endeavour to come up with a solution for your unique needs.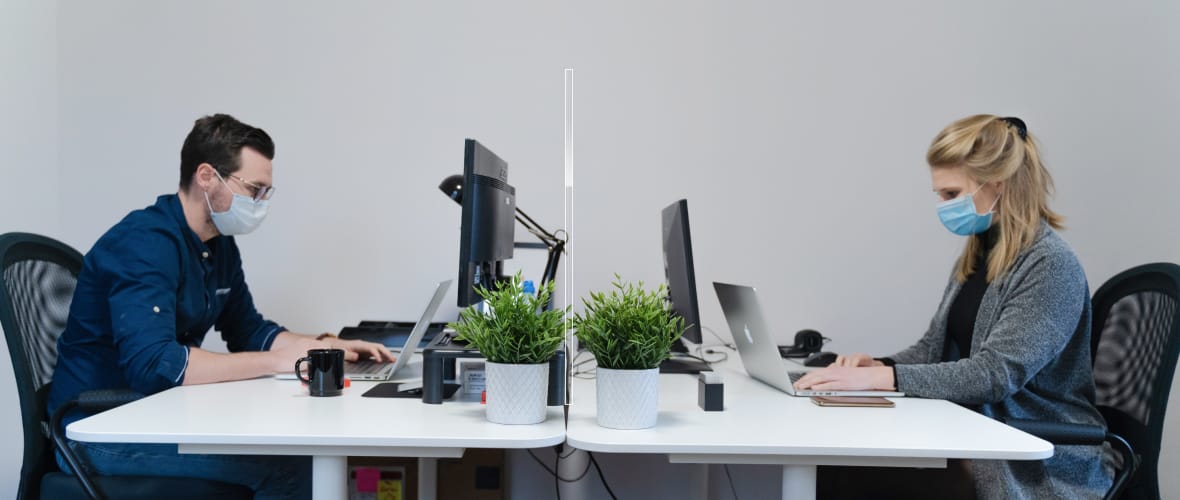 Protective Screens Benefits
Most businesses envisage protective screens to be around long after the virus has gone and to continue being a feature of everyday life.
Our screens are incredibly versatile and can be used for a variety of purposes. We have listed a few examples of their use below to provide some inspiration.
Protective screens for Desks
It may seem self-explanatory, but when the workplace moves from the home back to the office it will be important to provide additional safety measures to protect against the spread of illness. Providing dividers between desks will achieve this and can be ordered and produced quickly to meet need.
Driver protection Screens
Perfect for delivery and waste management operatives! These protection screens are ideal for those who share a commercial vehicle and want to adhere to social distancing requirements.
Taxi Protective Screens
Taxi drivers have been a key cog in maintaining transport for key workers safely. The use of made-to-measure Taxi protective screens provide additional safety for both the driver and passenger while also providing an added peace of mind, making this the preferred alternative to public transport.
Ceiling Suspended Sneeze Guards
These are a great way to separate workspaces in larger open plan workspaces or for this who share desk space. When furniture showrooms reopen these would also be ideal for placing between furniture such as TV Units.
Mobile Protection Screens
The perfect portable companion to provide flexible social distancing measures. These would be perfect in classrooms, for mobile hairdressers or even market traders.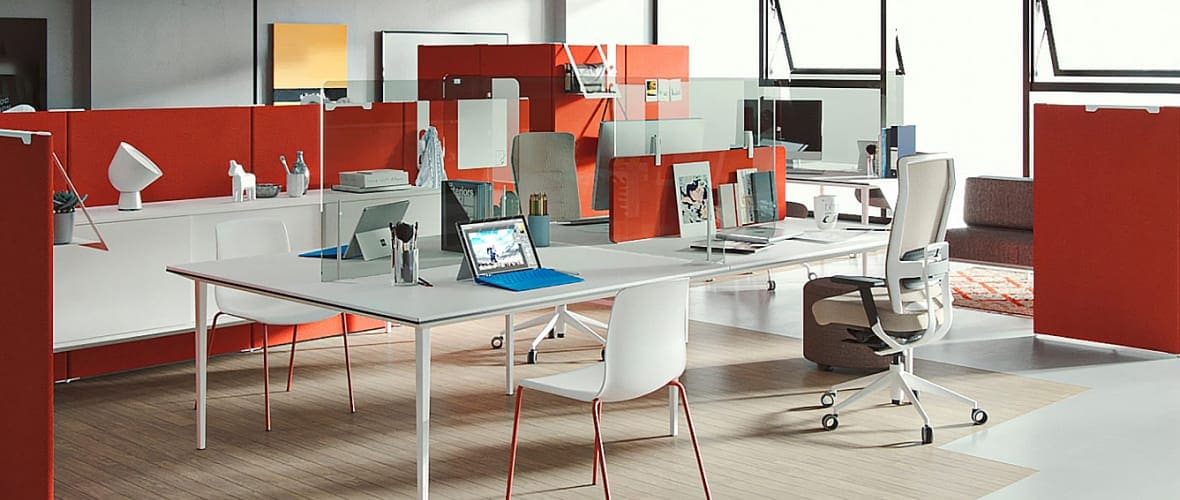 What are sneeze guards made from?
We supply sneeze guards in either Perspex & Plexiglass as well as Polycarbonate. The Perspex and plexiglass screens are easily wipeable, transparent and can be easily customisable with branding. This is the screen we recommend for daily use.
Our Polycarbonate screens are highly shatter resistant and durable. Available in a slight tint, these are recommended for places where they are likely to face exposure to heat or impact. For example, these screens could be suitable if being placed near a radiator or storage heater.
When dealing with customers it is important that interactions, body language and conversation form part of the experience and our clear plastic screens help to ensure that nothing gets lost in translation.
When life begins to get back to normal, our protective panels will ensure your business is ready to meet the demands of operating in the safest way possible.