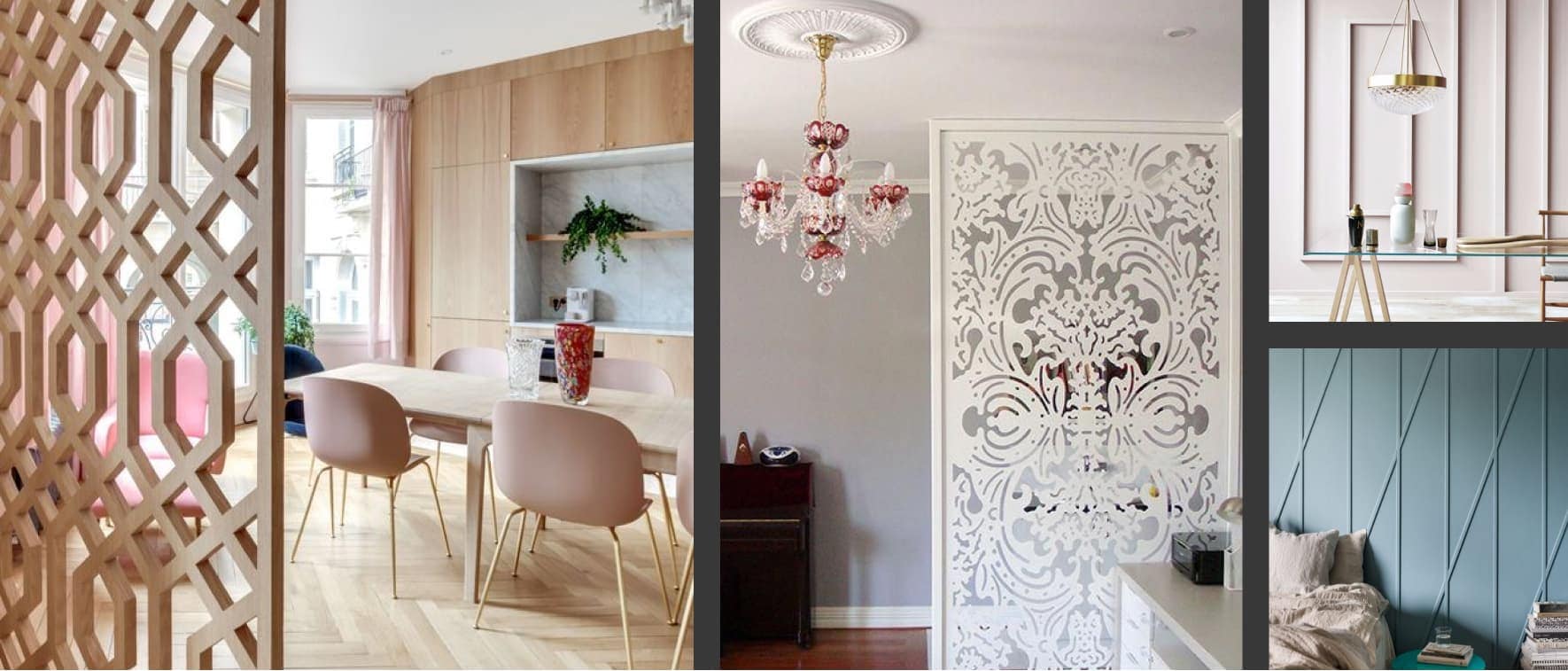 Decorative Panels Ireland
Covering walls in panels has a long tradition in interior design for both homes and commercial properties. With our CNC router we can achieve both modern and traditional designs — and we can cut any pattern in any material.
We design and manufacture decorative panels which can be used anywhere and provide an endless variety of design possibilities. Whether you are looking to change the theme of a room or are looking to add something unique as part of a home renovation, we can help with our range of ideas for how to use these panels within your property.
Decorative panels are excellent artistic pieces which can be a feature in any room. Not only can we custom make these to fit any space within your home and any pattern that you like, we are also able to offer them in a range of colours and designs.
Get a Quote — OR CALL (01) 430-1250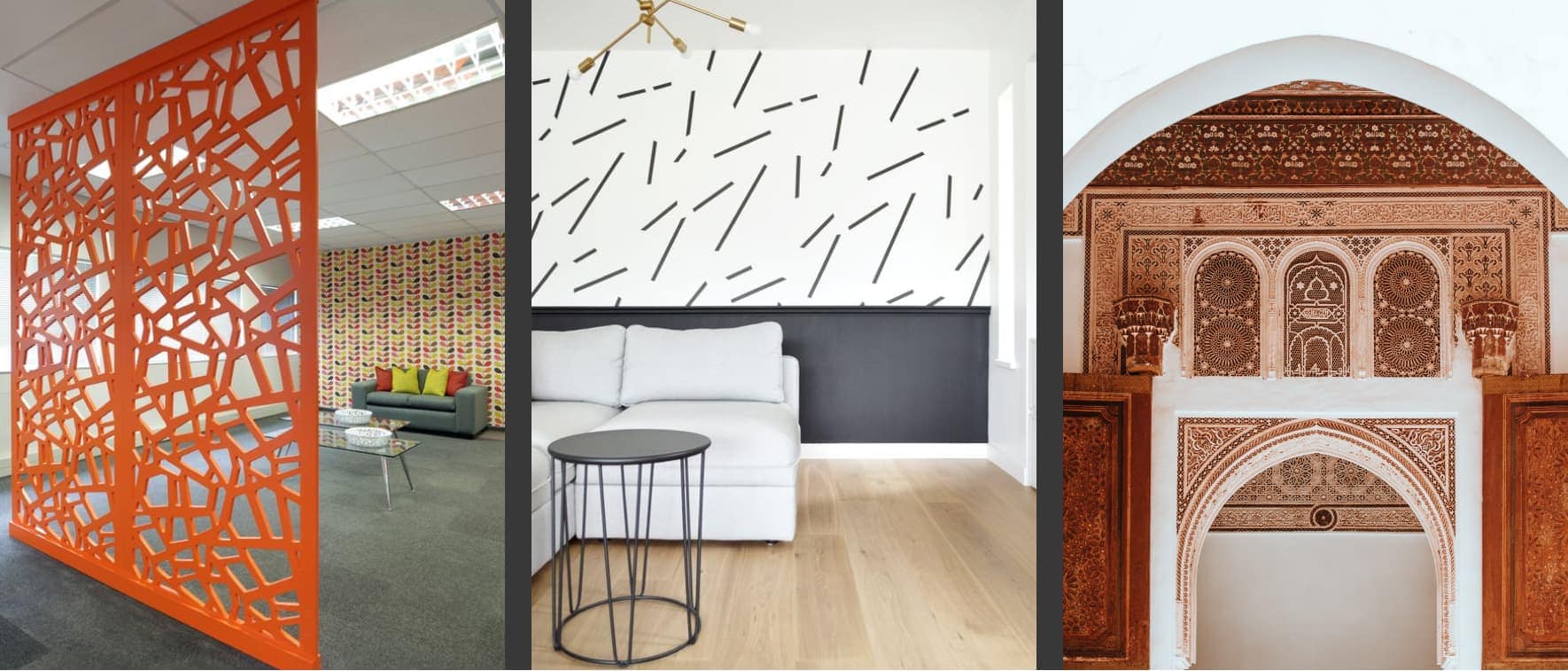 For standard wall panels you can visit wallpanelling.ie for further information about the various style and designs of wall panelling we can offer.  If a you are looking to refit your kitchen, we can also supply custom cut solid surfaces - any style, size and shape.
Our skilled design team can use our CNC router to cut flat materials (either wood or plastic) to a range of designs with great precision.
In the past we have created these panels for a range of purposes including:
Making feature walls
An artistic touch to the design of your home.
Making freestanding panels
Perfect for partitioning open spaces in an elegant way.
Attaching them as alternative to stair barriers
And as balcony or roof terrace barriers.
The possibilities are unlimited. Our creative team love a challenge, so get in touch if you have an initial query and we can work together to create the perfect ornamental panel to suit your needs.
Request a quote today.
Send us a design that you like and we can cut it from any material. Get in touch with us for a quote and let's get things moving!
Decorative Screens
These decorative screens can be used for aesthetic purposes, but they can also offer a practical solution. With the rise in popularity of open plan homes, our decorative screens provide a way to offer privacy and sections to rooms without removing the airy and light feel.
Our bespoke designs are made-to-measure and can be used anywhere within the home. Kitchen, living room, walk in wardrobes like these ones and so on.
Another place where these screens can be used is within the hallway or at the entrance of the house to keep the rest of the house private when somebody arrives at the door.
If you don't want the light to be blocked out, you can opt for a patterned design with holes to keep the light flowing within your home.
A further place where our decorative screens can be used is within the garden. Taking inspiration from windows in traditional Arabic architecture, these screens are the perfect addition to add style and privacy.
Choosing these panels can help you to create the perfect oasis which is secluded but still lets through an abundance of light.  This can be especially important if you live in a built-up area and wish to keep the garden a private, intimate place. The screens can also be used to disguise exterior brickwork or fencing that may distract from the garden experience you aspiring to create.
Within our workshop we are able to finish the decorative panels in a wide range of colours which are sure to complement your design needs.  We haven't even yet begun to scratch the surface with the endless opportunities and uses of these screens, have a look around your home and chat to us about how we can help to provide a modern twist to your rooms.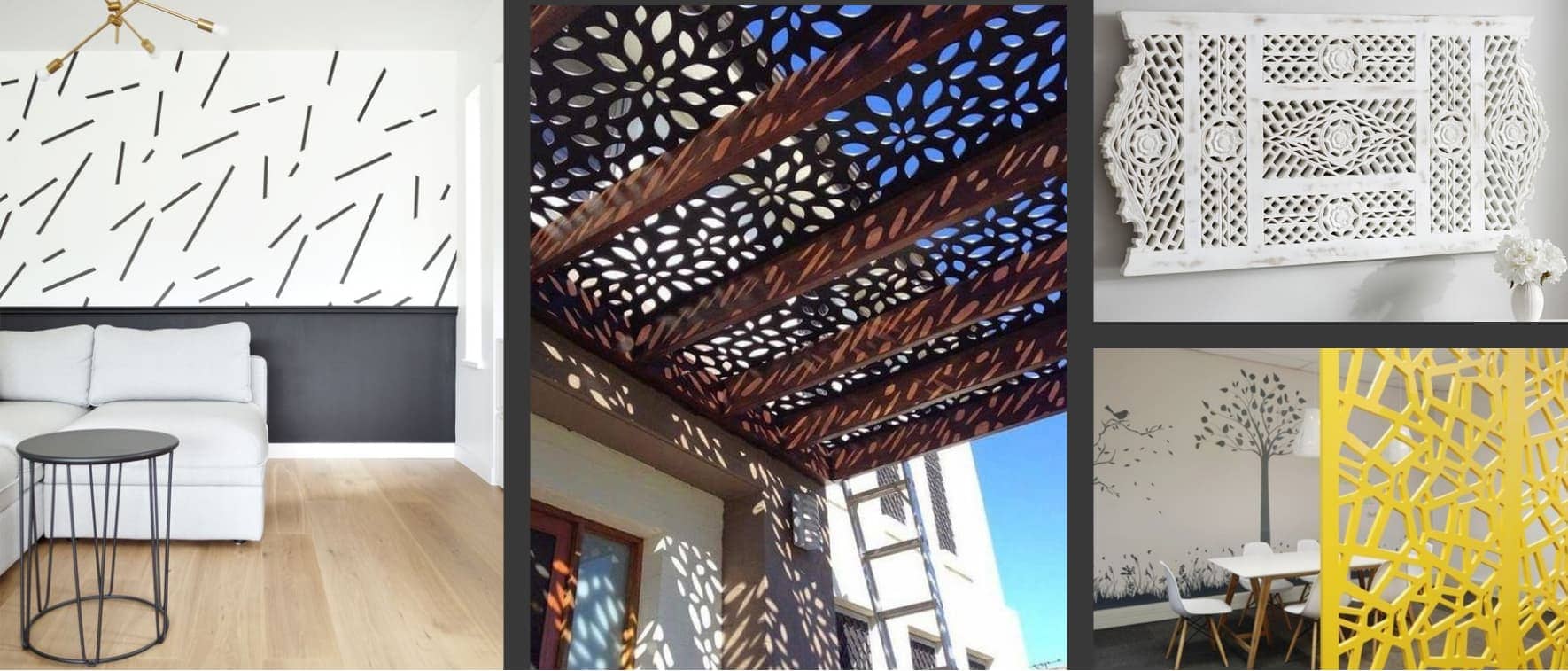 Room Dividers
Room dividers are a great way to create functional areas of a room which has limited amounts of space. They can also be used in larger spaces to create separate areas for a range of purposes.
When choosing your room dividers, it is important to think about what they will be used for and this will inform your selection of design and colour.
If for example it is going to separate an area that will be used during the day, you want to choose a design that still allows light to permeate through. This may be the case if you are hoping to use the divider to create a small home office or studio within a larger area: patterned designs for room divider screens are the best choice to allow air and light circulation while still fitting in with the modern interior.
Many clients choose to use this type of decorative panel in open plan living areas to create a separate dining room with its own unique style.
More solid designs can be selected in order to achieve a greater sense of privacy in your foom. You may wish to segregate a bedroom space into two, or have a guest staying and want to divide your open plan living area from the kitchen to ensure a greater level of comfort and discretion for your guest. Here you may wish to opt for darker colours.
Choosing the material to use for the specific purpose of your divider will be essential; we can advise on the best material for the desired use of your product. Click here to discover more about our wood cutting service and the CNC process that we use in order cut your design.
Decorative Wood Sheets
Our design team are also able to design decorative panels made from wood which can be used to add an extra element of style to any space.
Decorative wood sheets can be used as an alternative to wallpaper and are a popular way to make a feature wall.  Furthermore, ornamental wood sheets can be used to make a range of purposeful products and new design features in your home.
Whether you are looking to modernise a room within your home or are undertaking a larger renovation, contact us to see how our custom-made decorative panels can add the wow-factor to your home. We're always happy to advise you and help you choose the best product for your needs.